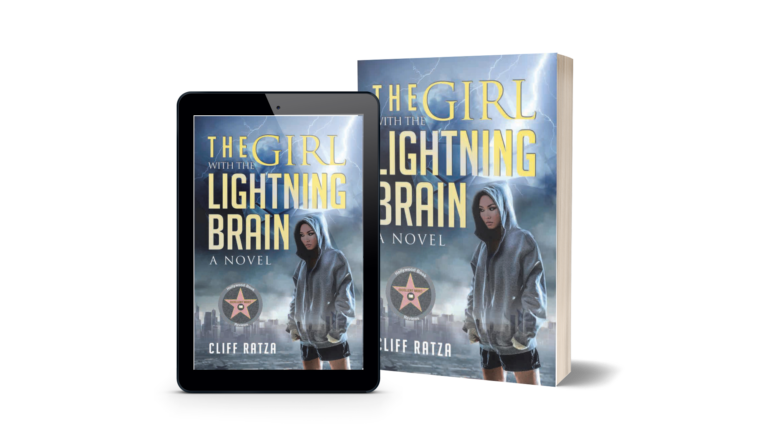 The Girl with the Lightning Brain
One of the most precious things a person can have in their life is their mind; in particular their memories. As Nobel Laureate Elie Wiesel once said, "Without memory, there is no culture. Without memory, there would be no civilization, no society, no future." In author Cliff Ratza's book The Girl With The Lightning Brain, a brand new action thriller series showcases what happens to society when a techno-virus infects the population and reduces the memories of the minds to ashes, and only one girl can hold the key to stopping it.
This book takes readers on an adventure like no other, as a glimpse into a possible near future showcases a world filled with a great fear of the unknown or unusual. While a plague rips through the various nations around the world, destroying the minds – much like Alzheimer's but affecting people of all ages – the political world becomes fiercer and emboldened when terrorist organizations amp up the fear citizens already have, leading to the people of the world allowing governments to do their thinking for them. However one young woman stands out above the rest, Electra. A stunning woman with a unique type of ability one could consider her "superpower," Electra must navigate the world and use her abilities to try and bring stability, hope and peace to the world that is on the brink of collapse.
This book was extremely well written. Divided into three eras, (the years before Electra's birth when her parents met, the years after Electra's birth up to the present, and Electra's current mission to help the world at large), the author does a marvelous job of showcasing the evolution of not only Electra and her family as she grows, but the evolution of the world as it experiences economic, political and security based problems. The book also does a great job of mirroring some of the problems we currently see in our world today, as those in power and the people who follow them tend to show mistrust and anger towards those who are considered "different" or challenge the norm of society, and thus are declared dangerous or unwanted. Electra's uniqueness is hidden out of fear of being discovered, which is something sadly that many can relate to in this day and age.
This is a book for anyone who enjoys action, adventure, suspense and semi-futuristic thrillers which explore the world on a political, societal and even genetic level. As someone who enjoys this type of story, it was not only entertaining but allowed me to view the world in a whole new light, which is a true sign of a powerful and engaging series. While the book felt more like a prequel than a first book, the story itself was a fascinating character study of Electra and her family, as well as the world at large.
Overall this was a magnificent book with a powerful narrative in which readers can get behind. Mirroring some of the powerful storytelling of films such as The Hunger Games, Jurassic Park and even Contagion, the story felt surprisingly realistic in its delivery despite the futuristic setting and inclusion of Electra's "Lightning Brain."
A story defined by evolution on both a genetic and societal scale, this was a truly engaging read with a major cliffhanger that will immediately draw readers into the growing narrative the of entire series. If you haven't yet, make sure to grab author Cliff Ratza's The Girl With The Lightning Brain now and become one with Electra's energizing story. –The Hollywood Book Review

A girl of abnormally high intelligence grows up in a future world plagued by a virus whose primary symptom is cognitive impairment in this debut sci-fi novel.
Electra "Kitt" Kittner is born into tragedy at the tail end of the 21st century. A lightning bolt crashes through a kitchen, killing her pregnant mom, Indira Ramanujan, and her paternal grandmother. Electra miraculously survives, and her dad, Jason, and her grandfather Justin "Doc" Kittner quickly learn that she's exceptional—she starts speaking at a very early age. Indira had been part of the Worldstar Team, along with Jason and his friends Su-Lin Song Chou and Adom Ola, all with Ph.D.s in biotechnology. Working for the National Institute of Health, the Worldstars have been developing a vaccine for the Techno-Plague, which renders victims with "fuzzy thinking." Effective vaccines, however, are countered by mutations of the virus. Electra has a natural immunity to the T-Plague so Jason, fearing what the government might do to her, convinces her to keep her abilities a secret. She spends her childhood subduing her superior brain, strength, and agility. But she'll soon put all of those to good use in generating a vaccine; taking out a terrorist group, Isilabad, intent on weaponizing T-Plague or attacking Electra's loved ones; and exposing potential moles at NIH. Ratza's first installment of a series is incisive and profound. Ever-learning Electra, for example, mulls over various types of religious beliefs and philosophies. She even has her own philosophy, Neurosci-Extended Deconstructed Kantianism. Customs of the future, too, seem plausible, like co-friendship, conceived to incorporate couplings of any gender. Though the novel starts with alternating time periods (initial signs of the T-Plague, 2092; Electra's birth year, 2097; and 2115), it isn't long before the narrative is chronological. This leads to some repetition (projects involving vaccines that readers know are still ineffective by 2115) and lulls, with Electra suppressed. But action gradually increases, as the formidable teen—and later twentysomething—takes down terrorists or just depraved men in general.
This series opener boasts an exemplary protagonist and leaves plenty of story avenues to explore. – The Kirkus Reviews